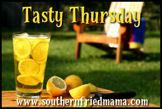 It's baaaack- Tasty Thursday hosted by Southern Fried Mama. I love sharing recipes and reading others so I am really glad she revived this tradition!
Here is my recipe for this week:
Chicken-Tortellini Soup
I found this recipe years ago in a Pillsbury cookbook and it has remained a family favorite. When I made it a few weeks ago I left out the broccoli (I can't have broccoli while I am on blood thinners) and it was still yummy.
9 oz. frozen broccoli
3 cans (10 1/2 oz) condensed chicken broth
6 1/2 cups water
1 can (10 3/4 oz) cream chicken soup
2 cups cooked chicken, cubed (you can used canned chicken to save $$ but be sure to rinse it well- I prefer boiling a chicken breast or two and cutting that into cubes)
1 cup chopped onion
1 cup sliced carrots
1/2 tsp. dried basil
1/2 tsp. dried oregano
2 cloves garlic, minced
1 package (7 oz) dry cheese tortellini
1.) Remove broccoli from freezer and let stand at room temperature to thaw. In a large soup pan, mix all remaining ingredients, except for tortellini. Heat to boiling.
2.) Stir in tortellini. Reduce heat, simmer uncovered for 30 minutes, stirring occasionally.
3.) Stir in thawed broccoli, simmer 5-10 minutes longer.
You can serve topped with mozzerella or parmesan cheese. I usually make breadsticks and salad to go along with it. This is also a good soup recipe to use leftover chicken or even turkey with.
Join us at Tasty Thursday to share your favorite recipes.